Tags: cake viet nam, taste, eating, how to, viet nam, foods, good, make,
corn, sweet, soup, foods, , tea, how to make, hot, dont forget,
Delicious,....
Delicious pancakes can not forget the food taste test.
Here is a guide prepared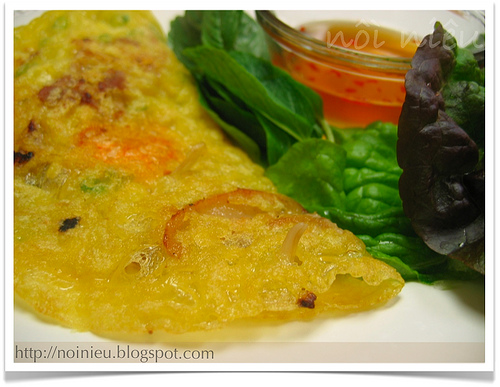 1. materials
To make cake:
- 2 cups of rice flour
- ¼ tsp turmeric powder
- ½ teaspoon salt
- ¾ cup coconut milk
- 3 bunch of scallions, thinly sliced
To make the cake:
- 1 cup fat or vegetable oil
- 1/4kg small shrimp, peeled, chopped vein
- ¼ teaspoon salt
- ½ cup sliced ​​onions
- 1-2 red peppers, sliced ​​ripe
- ¾ cup sliced ​​mushrooms
- 2 cups bean sprouts (bean sprouts)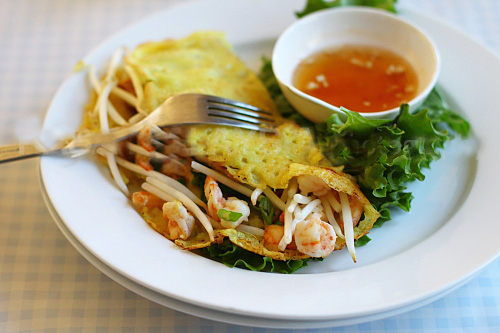 Bottom plate of lettuce leaves to decorate the pancake dish more appealing. Dipping bread with your favorite sauce and
eat immediately.
2. processing
There are many kinds of pancakes, pancakes also central, southern pancakes ... But there can be little material variations, but the taste is not different is how.
- Mix the rice flour, turmeric powder and salt into bowl. Add water, coconut milk and mix until smooth mixture. Strain through sieve if the flour lumps are special, and set aside for about 30 minutes
- Heat the pan, add 1 tablespoon of fat or vegetable oil, , shrimp, onions, scallions and mushrooms sauteed COH until cooked shrimp, shrink.
- For half the dough into the pan powder room, up to two of the islands are. For bean sprouts and shrimp sautesed in part on the cake, to lower temperatures for cooked evenly.
- Rolls back to encase the human and fried for 1 minute, while the edges of the cake is golden brown. Doing so with the rest.
- For leaf lettuce under disk to decorate pancakes dishes more appealing. Dipping bread with sauce and eat immediately.
Processing sauce:
Ingredients for sauce:
- ¼ cup of sugar
- ½ cup warm water
- 3 tablespoons lemon juice
- ¼ cup fish sauce
- Sliced ​​ripe peppers
- 1 finely chopped garlic